With a saving of £39 every six weeks, for me grooming my own cockapoo was a no brainer, however this wasn't my initial driver. Freya has only been professionally groomed once; the groomer's idea of a teddy cut certainly wasn't mine and this experience was enough for me to take up the grooming challenge, along with the clippers.
It wasn't the first time I'd taken up the gauntlet where hair chopping was concerned; with four children it was a massive cost saving to learn basic cutting – no bowl on the head for my tinies.
Grooming your puppy
If you intend to use a professional groomer, it's a good idea to introduce your puppy to the process soon after they have been fully vaccinated – usually anytime from 16 weeks. This would only involve a bath and having nails clipped, along with the face and personal little places trimmed.
My good friend and fellow doodle owner, Hilary, had explained how important it was to ensure Freya became used to being 'groom handled'. So for the first six months of Freya's life, grooming consisted of daily brushing for five to 10 minutes to keep the coat matt free, monthly bathing, and regular sink baths for sorting out mucky paws and jowls.
At this stage I kept my toolkit simple: a brush, comb, slicker and nail clippers (see Dog Grooming Toolkit below). I already had a pair of hairdressing scissors, which came in useful for trimming around Freya's eyes and mouth, as she got older. The puppy trainer had also encouraged me to regularly touch her ears as 'floppy' eared dogs often need them plucked to keep the ear canal clean. For bathing I used a detergent-free puppy shampoo, which enabled me to wash Freya as often as required without the danger of drying out her skin.
Freya's adult coat started appearing when she was eight months old and constantly changed until she was two when it primarily settled into a curly coat which, when grown to full length, forms ringlets. At this point most of her mother's sable colour had faded to a pale stripe down her back, at the end of her ears and tip of her tail. The only dark areas that remained were around the paw pads, inside her ears and in her important little place!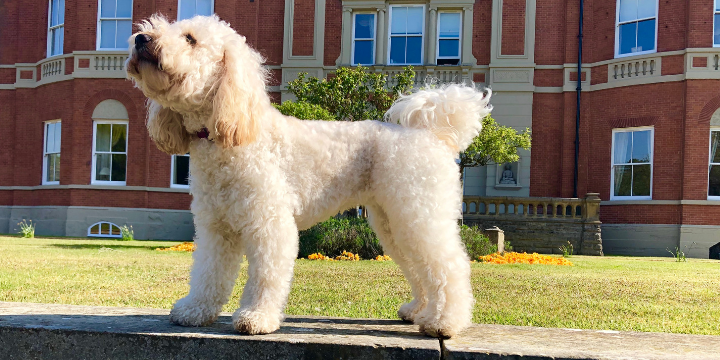 How to groom your cockapoo
So over I went to the omniscient YouTube to discover the best teaching videos for the teddy cut, my style of choice for Freya. This took many goes before I managed a decent cut, but a cockapoo's coat is very forgiving with all its curly twists and turns and luckily no-one noticed any mistakes I made in the beginning. However, you can do your own interpretation of 'teddy bear' and mine is based on Andy Pandy's as I love the 'hinged' look. But it doesn't have to be a teddy cut, there are so many variations to chose from. Rather than a full clip, you could just do a partial trim so that the length of time between professional grooms is extended.
Keeping grooming to a minimum
Cockapoo Coat Type
Your cockapoo's coat type will make a difference to how easy it is to care for. For example, Freya's half sister, Amber, has more spaniel in her coat, which means it repels a great deal of the dirt as it dries (sadly not any smelly residue though). Freya's more poodle coat retains the dirt so the less spaniel in your cockapoo, the more the mud will stick. Understanding your dog's coat and following an appropriate grooming regime will help keep daily grooming to an absolute minimum.
Dog Bathing
A full bath twice a month has now become mandatory to keep Freya's coat tangle-free and easy to manage. I've perfected the following practice as it means I no longer have to comb daily, and when I do it's super quick, saving me so much time overall. I never comb or brush before bathing as it's much easier and more effective to do this afterwards with the conditioning technique perfected for her coat.
I use the bath and showerhead for full bathing, initially washing with Groom Professional Baby Fresh Shampoo. I love the smell, but the Prince version may be better for a male 😉 After rinsing I use Pets At Home Dog Coat Conditioner, then rinse off and give Freya a thorough microfibre towel rub. I then liberally spray her coat all over (except her face) with Mane and Tail detangler, and leave this on her coat without rinsing and comb through.

Quick random tip: if your doodle rolls in the smelly stuff, Fox Poo shampoo by Animalology is awesome!
Dog Drying
Initially I used my hair dryer, but this took so long I invested in a Dog Blaster. Prices of these ranged to excruciating levels, but I chose the Voilamart model as it came recommended, was very reasonably priced at under £50, and certainly suffices for Freya's needs; it now takes 10 minutes to dry her coat instead of the half an hour plus previously. The hand held dryer is still used for her face, as it's not so aggressive.
Once dry, Freya's coat is beautifully soft with super easy combing. If left to dry naturally, her coat type takes an age, dries super curly and the easy comb result doesn't last long.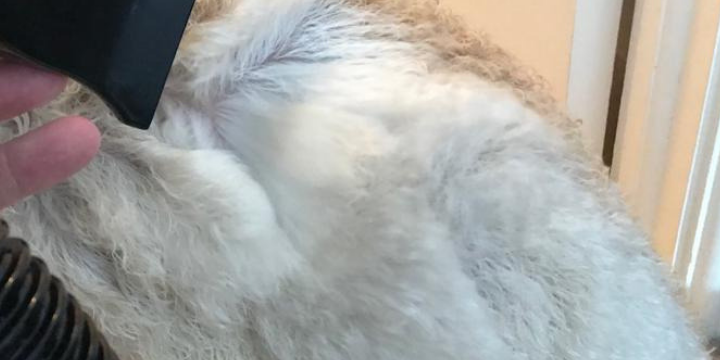 Dog Clipping
My first tip here would be to buy yourself some decent clippers. Again long term cockapoo owner and friend Hilary, advised me that buying cheap ones would be a waste of money if I wanted to clip on a long-term basis. So I bit the bullet and purchased an Andis Pro Grade 2-Speed+ Ultra Edge Detachable Blade Clipper. Sound advice as it's so easy to use and it's paid for itself several times over already.
The joy of the teddy cut is that the body is clipped fairly short; this helps keep Freya cool in the summer and matt free while wearing her Equafleece. When hill and mountain climbing, Freya also wears her K9 harness, which matted her body and under arm fur until I adopted the teddy cut. Her legs, tail, face and chest are kept fairly long and maintained with scissors – see video. I keep the length of her legs around 5-7cm, shaping them shorter at the joints in the 'cut out'. If I trim regularly – four to six weeks – the process from bathing to end of clip now takes around an hour. I also trim Freya's face and paws and any other body parts if required, in between full grooms.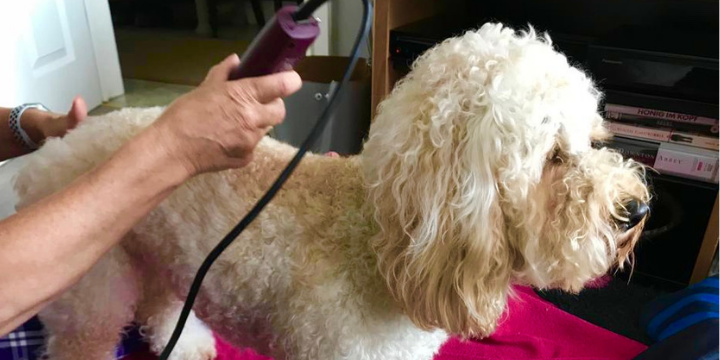 I make a real fuss of Freya after her groom which she loves and gets super excited as she knows her reward is one of her favourite chew treats, kept especially for post grooming.
The following is just one of the videos I viewed before attempting the cut. This is show level and there is no way I would spend the amount of time it would take me to produce perfection, but it's a great tutorial as it covers every aspect. I soon learnt that the day following a groom, Freya looks completely dishevelled having doodle dashed for a few hours, but at least it was tidy!
Nail Trimming
Trimming Freya's nails was a daunting prospect at first, but her front paw nails seemed to grow at a rapid rate as she seldom walks on paths. However, the initial fear factor disappeared very quickly and the trim has now become second nature.
Ongoing Care
At 25 months, Freya still has a different mix of coat types: her body's covered in thick bubbly curls, her legs a looser, shaggy curl, tail half poodle/half spaniel, and ears mainly spaniel. If you buy any doodle puppy their coat is a gamble as to the final outcome – both coat type and colour.
It's also a myth that doodles don't shed, however the more poodle-type the coat, the less they shed. Freya deposits fluff, but in tiny amounts which are easy to spot and pick up. However, all doodles moult so it's important to regularly brush out the surplus hair otherwise the coat will matt and if this is not dealt with straight away, will need to be shaved. It is very easy to miss parts of the body – under the arms, around the ears, the tail, backs of the front legs, for example. Stroking Freya on a regular basis – appreciated by both of us – means I spot a matt before it get out of control, either teasing it out gently with a comb or snipping it with scissors.
Dog grooming toolkit
The items on the far left were the first dog grooming tools I purchased. Gradually I progressed to the professional tools on the right, along with the clippers and blaster illustrated above.
Left to right:
Brush, slicker, comb and nail clippers.
Wahl Raquo battery dog trimmer (great for in between paw pads, but eye scissors would suffice), metal comb, eye trimming scissors, straight scissors, thinning scissors and curved scissors.
New Addition – October 2019
A dog version of a Tangle Teezer, the Petteezer is the latest addition to making my life (and Freya's carer's life) a little easier. I only use it on Freya's longer winter coat on her back as the plastic bristles are a little hard and could hurt her skin on the areas kept short. However, I'll be using it year-round on her legs as these are kept at a constant one to two inches. It can be used on wet or dry fluff just like the human version!
Featured in the article:
Voilamart Dog Blaster & hand held hairdryer
Andis Pro Grade 2-Speed+ Ultra Edge Detachable Blade Clipper

Please note I am not affiliated with any of the companies who supply any of the equipment mentioned in this post. They have simply been recommended to me or I have chosen them for convenience.
So all that's left to say is good luck and don't forget to let me know how you get on. Why not send me an image of your full or partial grooms ????